Disclosure: This shop has been compensated by Collective Bias, Inc. and its advertiser. All opinions are mine alone. #TeaProudly #CollectiveBias
This time of year always inspires me to be a bit reflective, maybe even more so than the New Year does. I find it to be the perfect time to make changes in my life. The landscape is literally changing, so why shouldn't we? The fall leaves and the upcoming Thanksgiving holiday remind me to think about all I have to be grateful for, and how much I want to instill gratitude in my children, as well. If you're feeling the same way, try one (or all) of these 7 ways families can practice thankfulness at home.
This post may contain affiliate links. Please see our disclosure policy for full details.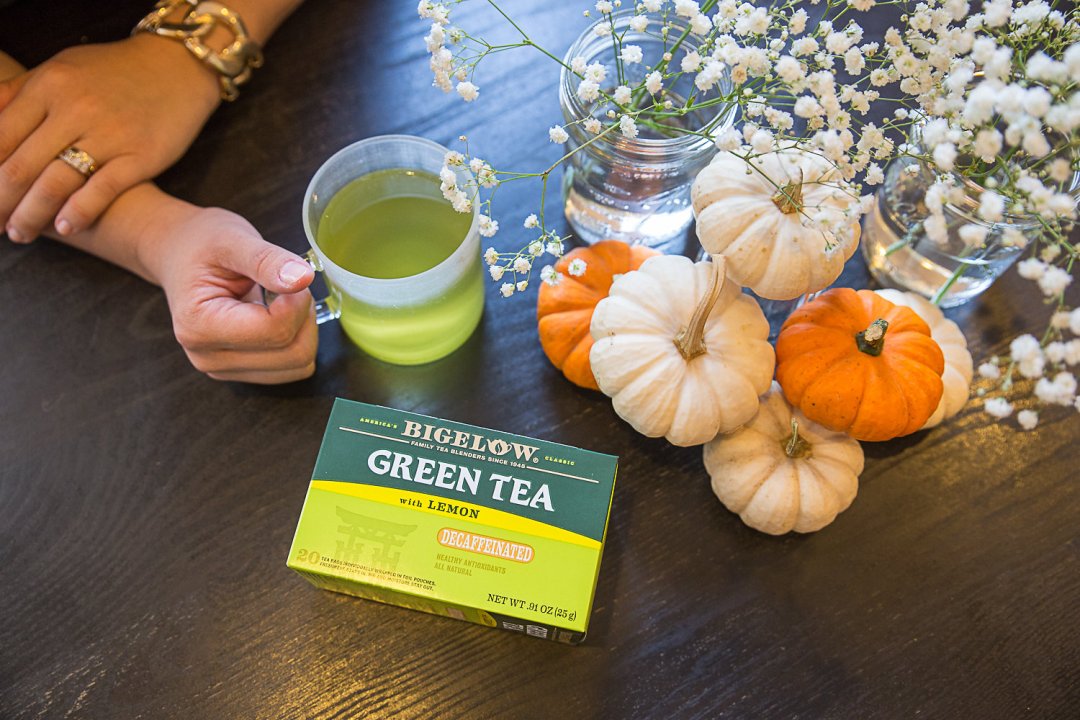 1. Practice what you preach
Before I suggest anything, know that your kids are watching you and taking notes! If you force them to eat their vegetables and never eat anything green yourself, you'll be called out. The same goes for any activities you want your children to partake in. Sometimes, we have to force ourselves to take the time we need to recharge. Kids look up to you, so be a good role model.
2. Keep a gratitude journal
Whether you do this one solo or as a group, the simplest way to count your blessings is to put them down on paper. Choose a beautiful notebook and a fancy pen, so you'll be encouraged to write daily. Or sit around the kitchen table and discuss what you'll write. (Sometimes kids need a reminder of all of the little things they encountered in a single day.) Then jot it all down. I like to brew up a cup of tea and take some time to reflect. I appreciate how Bigelow uses such fresh and high-quality ingredients in its tea. There's something so soothing about sipping some warm tea as I sit down to share my thoughts.
3. Meditate
It's hard for kids to sit still. Scratch that. It's hard for all of us to sit still these days! Show your family members how to take brief periods of time each day to sit in silence, clear their minds, and focus on their breath. Because our minds tend to reel, give your children an intention of thankfulness to focus on while they're sitting. They can either say the word over and over or they can visualize all of the things and people they are grateful for. You can start with a minute a day and work up from there.
4. Say thank you more often (and mean it)
Do you thank every stranger that holds the door, hands you something, or helps you in some way? Make it a point to say the words thank you more often. Make it a part of your normal lexicon and encourage your kids to do the same. This simple, verbal expression is a good reminder for us all.
5. Send thank you cards
This is not only a great habit to model for your children, but also a small gesture that really means a lot to the recipient. Hand-written thank you cards for any and all occasions are vastly underrated. When possible, throw in a $5 coffee shop gift card or a drawing your children made of the interaction to take it a step further.
If you want to tea proudly with Bigelow, visit your local Walmart. You'll find Bigelow Tea in the tea and coffee aisle.
About Carmen Sognonvi
Carmen Sognonvi is a luxury family travel content creator at Top Flight Family, named a top 10 family travel Instagram account by Time Out New York and Brit + Co. Her insights on travel have been featured in The Washington Post, INSIDER, Huffington Post, Wanderlust Travel Magazine, TravelPulse, HOTELS Magazine, and more. Carmen firmly believes that you can (and should) travel with your kids from a young age. She offers families practical solutions for travel, as well as tips on how to travel in luxury for less. She lives in New York City with her multiracial and multicultural family of four. Follow her on Instagram, Facebook, Twitter and Pinterest.
Click here to read Carmen's articles
Some posts on this site may contain affiliate links, meaning if you book or buy something through one of these links, Top Flight Family may earn a small commission, at no extra cost to you.
We are a participant in the Amazon Services LLC Associates Program, an affiliate advertising program designed to provide a means for us to earn fees by linking to Amazon.com and affiliated sites. Read the site's full disclosure and privacy policy here.